Photos: 10 SA celebs in motherhood
By cheatmaster 07:50 Sun, 10 May 2020 Comments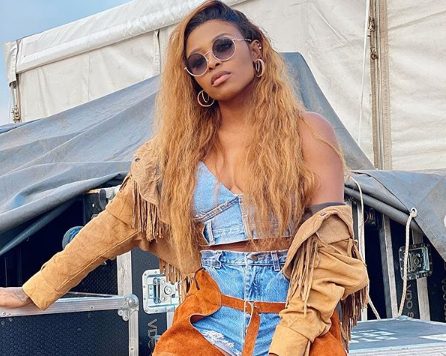 Happy Mother's day to SA celebs who are mothers. Some of them have taken to social media to celebrate themselves.
The likes of DJ Zinhle, Pearl Thusi, Kelly Khumalo, Busiswa and many others hype themselves on a special day as this.
Juggling their career and motherhood has been quite challenging, but some of them have confessed to having a successful balance with children who are understanding.
View this post on Instagram

All I know is you two saved my life in a time I didn't even realize I needed saving. I finally understand a love so deep and pure that it rips you open, stretches your heart, hugs your soul and heals you in more ways than one. Everyday I get closer to God and understand my Mom more deeply because of you too. Having both of you brought me closer to myself. Everyday I get woken up by your laughs, your love and when you look at me I feel like I am everything and more. Loves of my life. My forevers. I love you. ❤️💐 Happy Mother's Day to all the beautiful Moms. 🙏🏾❤️

A post shared by LOOTLOVE™ (@lootlove2) on May 10, 2020 at 1:12am PDT
View this post on Instagram

Happy Mother's Day to all the wonderful women who are raising a nation, world shakers and history makers. Women who are raising child headed household, women who are educating and supporting young people, women who are empowering other women, women who work at Early Childhood Development Centres, women who are on the frontline as health workers as we fight COVID-19., women who are sitting at old age homes. You are the ROCK!!!Catch me LIVE on Instagram with @nandi_madida at 10:30 when we speak about all things motherhood. Catch you later! 😘

A post shared by Basetsana Kumalo (@basetsanakumalo) on May 10, 2020 at 1:20am PDT
View this post on Instagram

Happy Mother's Day ❤️

A post shared by Kelly Khumalo (@kellykhumaloza) on May 10, 2020 at 1:17am PDT
View this post on Instagram

Being deeply loved by someone gives you strength, while loving someone deeply gives you courage. ❤️

A post shared by ZINHLE JIYANE (@djzinhle) on May 5, 2020 at 10:19am PDT
View this post on Instagram

My mood when I get to work! Thank you for a great day @unlocked_za !!! I'll be hosting master classes on how to unlock your dreams and growth tomorrow at the NEDBANK stand at @beautyrevolution_za in Sandton !!! See you there!!! 💚 . 📸 : @shellingsonsa Also… I beat my own face! 🥰 @maccosmeticsafrica

A post shared by Pearl Thusi (@pearlthusi) on Mar 13, 2020 at 12:19pm PDT
View this post on Instagram

A beautiful gift…one I don't take for granted. My 1 prayer: To live long enough to see and make memories with their children. 🙏🏾 #HappyMothersDay mommies. ❤️

A post shared by Actress 🎬🎭🎥🇿🇦🌍 (@gail_mabalane) on May 10, 2020 at 12:34am PDT
View this post on Instagram

Happy Mother's Day to me wethu🤗❤😅 – – Ok but also nani: @mdeshelwa @mpumie.madubedube @luhlove_gqulu @luleka_mbete @arn_neigh_leigh_sa @nomfundo_gq_biyela

A post shared by Busiswa Gqulu (@busiswaah) on May 10, 2020 at 3:44am PDT
View this post on Instagram

This day has a speacial meaning in my life … THANK YOU HONEY FOR BEING A BLESSING TO ME … Happy Mothers Day to every mom out there to angel Living or Deceased… MAY YOUR DAY BE FILLED WITH LOVE AND COMFORT ♥️♥️♥️

A post shared by Keke Mphuthi (@kekemphuthi_official) on May 10, 2020 at 2:49am PDT
View this post on Instagram

To the very first LOVE OF MY LIFE! You were LOVE personified! You had a way of making everyone feel special, loved and appreciated! You had this special way of looking at me, with a naughty glint in your eye and the most endearing smile!😇 You were one of a kind Moms! An angel on earth and now in heaven!🙏🏾 You taught me love unconditional, giving without expectation, and faith surpassing all understanding! Thank you mama, then, now and forever!🙏🏾 I will always love you. You live on in my heart. I hope I continue to make you proud, and raise my own children and grandchildren with the same values you instilled in me! #happymothersday in heaven MIOMS!🌹🌹🌹❤️😘

A post shared by Connie Ferguson (@connie_ferguson) on May 10, 2020 at 5:07am PDT
View this post on Instagram

A letter to my baby. Today is my very first Mother's Day. There's nothing I love more than being a mom. To have her in my arms is the most fulfilling feeling I've ever experienced. I started a journal for my Beanie pie a few months ago writing down milestones and moments we've treasure for her to read later on in life. I joined #lettertomybaby and added in a letter for her to read celebrating our first Mother's Day. I'm really a mom. Happy Mother's Day to all the mamas 💕 _ _ _ Don't forget to tag me in your letter & hashtag it #huggablemoments #lettertomybaby #proudhuggiesmom _ #stillsbyhubby

A post shared by Mrs Linda "Oyena" M (@linda_mtoba) on May 10, 2020 at 1:57am PDT
Related Article
Comment


.....................

Please LOGIN or REGISTER To Gain Full Access To This Article