Couple goals! Naak Musiq and Nandi Mbatha flaunt new tattoos
By cheatmaster 08:55 Sat, 30 May 2020 Comments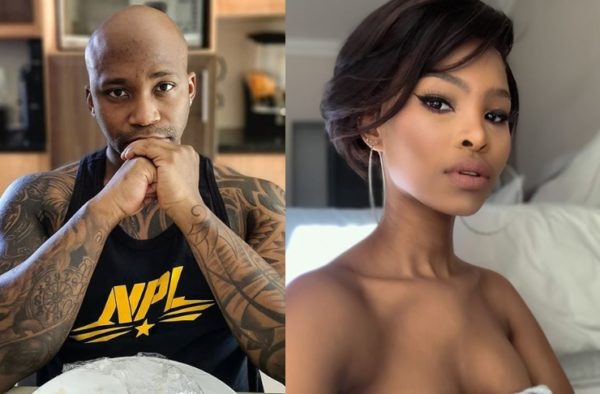 Naak Musiq and Nandi Mbatha flaunt their recent tattoos on social media.
It was observed last-week that the two are in a romantic relationship, but yet to confirm it publicly.
Having recent tattoos at the same period and from the same tattoo artist drops another clue that the two are dating.
; a symbol of power and majesty 🐉🌹 @inkboy_que
A post shared by Nandi Mbatha 🌸 (@nandii_m) on May 27, 2020 at 9:22am PDT
When Art meets Art. @iamnaakmusiq 👌 you Hard bro!!! #ink #tattoolife #tattooed #inked #handtattoo #inkwell #tattoist #inkedlife #tattoos #tats #inklife #tattooedgirls #inkstagram #bodyart #instatattoo #sleevetattoo #instaart #tattooart #tat #tattoo #inktober #tattooartist #instatag #tatts #inkedup #instagramanet #inkedupguys #inkaddict
A post shared by Inkboy Que (@inkboy_que) on May 30, 2020 at 7:38am PDT
Creativity takes courage ❤️💯✔️ @nandii_m murder them softly 👊😂🔥🔥🔥🔥🔥#ink #inkedgirls #tattoolife #tattooed #inked #handtattoo #inkwell #tattoist #inkedlife #tattoos #tats #inklife #tattooedgirls #inkstagram #bodyart #instatattoo #sleevetattoo #instaart #tattooart #tat #tattoo #inktober #tattooartist #instatag #tatts #inkedup #instagramanet #inkedgirl #inkaddict
A post shared by Inkboy Que (@inkboy_que) on May 20, 2020 at 5:46am PDT
Leg piece process going hard¡!!✔️💪😎 @iamnaakmusiq let's go bro. Metrical dricoded #ink #inkedgirls #tattoolife #tattooed #inked #handtattoo #inkwell #tattoist #inkedlife #tattoos #tats #inklife #tattooedgirls #inkstagram #bodyart #instatattoo #sleevetattoo #instaart #tattooart #tat #tattoo #inktober #tattooartist #instatag #tatts #inkedup #instagramanet #inkedgirl #inkaddict
A post shared by Inkboy Que (@inkboy_que) on May 18, 2020 at 5:39am PDT
Related Article
Comment


.....................

Please LOGIN or REGISTER To Gain Full Access To This Article