Arsenal can win the Premier League - Ighalo
By Quadrihatic 07:23 Fri, 16 Oct 2015 Comments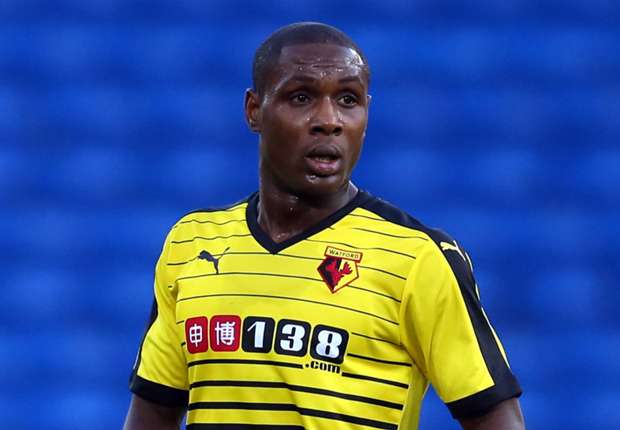 The Hornets come up against the Gunners in a Premier League clash on Saturday but the Nigerian feels their more-fancied opponents are not favourites to win the league.
Watford striker Odion Ighalo believes that Saturday's opponents Arsenal could win the Premier League but are not the favourites for the title.
Ighalo returns from the international break having scored a goal in Nigeria's 3-0 demolition of Cameroon in Brussels on Sunday.
The Gunners are second, sandwiched between the Manchester clubs, going into the weekend, but the Nigerian thinks they will have to contend with the usual favourites to win their first title in more than a decade.
"Arsenal can win it, but it's going to be difficult because you have Manchester City, Manchester United and even Chelsea fighting too," Ighalo told Goal.
"There's no good time to play them because Arsenal are a big and good team."
The 26-year-old has been in great form as he was nominated for the Premier League Player of the Month for September and has scored five goals so far, more than strikers Theo Walcott and Olivier Giroud combined.
"It's a great feeling but I don't want to be carried away with that," he said, instead focussing on the challenge ahead.
Having failed to score against Manchester City during his first encounter with one of the giants of the English game this season, the Nigerian will face Arsenal on Saturday hoping to reprise the feat of his hero, Samuel Eto'o, against the Gunners during his brief spell with Chelsea. Eto'o opened scoring in that famous 6-0 demolition of the Gunners at Stamford Bridge in March 2014.
"Samuel Eto'o is my idol, I love the way he plays and some people call me Eto'o," he said.
Related Article
Comment


.....................

Please LOGIN or REGISTER To Gain Full Access To This Article