Mexico vs Nigeria 0-0 Full Highlights
By kellychi July 1, 2020, 01:38 am Comments
Mexico vs Nigeria 0-0 Full Highlights March 5, 2014 Stadium Georgia Dome
Despite playing in front of a largely partisan Mexican crowd, the Super Eagles held their own and came out with good lessons learnt in the work out in Atlanta
ANALYSIS
By Solace Chukwu
Nigeria and Mexico played out a third consecutive stalemate, with neither side hitting the back of the net in Atlanta on Thursday morning. The Mexicans were on top for long periods, but made little of it.
El Tri went with the expected 3-5-2. Andres Guardado was given the nod over Miguel Ponce at left wing back, and Javier Hernandez surprisingly partnered Oribe Peralta upfront.
Coach Stephen Keshi sprung a surprise, handing Michael Uchebo a debut from the start in an unusual 4-4-1-1 shape. The Cercle Brugge man mountain played just off Emmanuel Emenike, with Ahmed Musa getting the nod on the right. The rest of the side picked itself.
The game started at a frantic pace, and immediately highlighted a key problem area. The Super Eagles defence was up against two strikers, and found it impossible to play out from the back as there was no spare man. Whenever the ball was played back, Vincent Enyeama had to hoof it upfield hurriedly; there was no option for a pass.
In this sense, Keshis decision to play without a designated holder was puzzling. The best way to beat the press from a front two is to have the holding midfielder drop in between the centre backs and push the full backs forward. This ensures that there is a spare man to a. help play around the pressing and b. spread the play to the advanced full backs.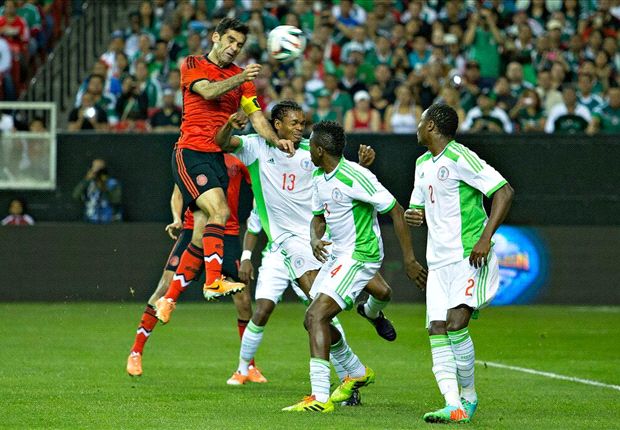 Trouble | Michael Uchebo gave El Tri defenders a lot to do
It is not like The Big Boss did not know what to expect, so what could have informed his decision?
Quite understandably, the full backs Elderson Echiejile and Efe Ambrose were worried about leaving the centre backs 2v2 against Hernandez and Peralta. Consequently, they played very narrow, very defensive roles, seeking to cut out balls into the channels. They succeeded, but the price the team paid was that the one major area of advantage of a 4-4-1-1 over a 3-5-2: numerical superiority on the flanks, was not exploited. The only time Elderson broke forward to overload Paul Aguilar, it resulted in a chance at the front post for Emenike on 34 minutes. The striker fluffed the chance, and immediately the ball went down the other end and nearly resulted in an opener for Mexico. This seemed to justify the initial cautiousness, and Elderson never strayed again.
On the other flank, Andres Guardado was very brave with his positioning, and received balls in behind Ambrose on various occasions. He worked promising combinations with central midfielder Luis Montes, who drifted out to the left to double up on the Celtic defender. Montes was nominally Onazis man, but was not tracked often enough (more on this later), and Mexico got joy down that side. Of course, the risk of being caught out was ever-present: Musa got a chance to run into the space vacated by Guardado when a move broke down on 25 minutes, but wasted a 3 on 1 counter attack by rushing and over-hitting his cross wildly.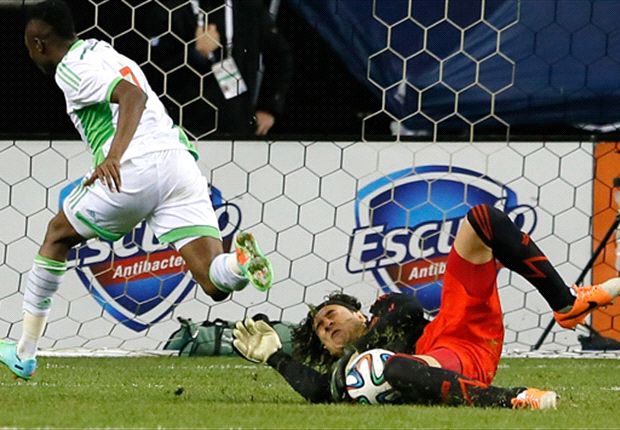 Heroic | Ochoa was fearless and made six saves
A special mention should go to the debutante Uchebo. He only played 45 minutes, but was excellent. Though his passes were sloppy on occasion, some of his movement was sublime. His biggest contribution to the team was, however, in the defensive phase. He constantly got goal side of Juan Carlos Medina, El Tris deepest midfielder, preventing easy passes being played into him. This meant that Mexico found it hard to build moves through the middle, and when they tried to force the issue on a few occasions, the giant was on hand to intercept and launch quick counters. The most notable, on 11 minutes, led to the games best chance and drew a fine save from Guillermo Ochoa.
He visibly tired and dropped off, which was disappointing, because for the 30 minutes he was fresh, the Super Eagles game plan was very clearly defined: two banks of four, press aggressively on halfway, counter into space using the pace of Musa and Victor Moses (who had a fine game). As Uchebo waned physically, the team wilted.
Having recognized the tide of the game was turning, Keshi brought on Ramon Azeez for his debut at half time, replacing Uchebo. He obviously meant to bring stability to the midfield and attempt to control possession, but bizarrely opted to place the Almeria man further forward, with Onazi occupying an anchor man role. Onazi endured a difficult game and was massively overworked: in the first half due to Mikels positional indiscipline, which prevented him from moving out to engage Montes frequently; and in the second half due to his new role. I have highlighted previously that Onazi is not best suited to such a position, and it showed as the game wore on. The team conceded more and more space between the lines of defence and midfield, and should have been punished but for a lack of true creativity from La Verde.
Azeez struggled further forward, bringing energy and endeavor, but little guile. He contrived to miss a very presentable chance on 68 minutes from a Victor Moses cutback due to a lack of composure; indeed, the only good that came of his introduction was the (now legal) freedom it afforded Mikel. The Chelsea ace played further forward, and even though he was far from his best, he created two fine chances for Musa with incisive through balls.
Stephen Keshi made mostly straight swaps: Ezekiel Imoh got his debut and looked lively, Obinna Nsofor was his impulsive self, and Leon Balogun lasted all of 20 minutes before going off with a nasty knock. Mexico utterly dominated the encounter the longer it continued, but ultimately did not do enough to win the game. Their best moments were from corners, which the African champions seemed utterly incapable of defending. Young Ivan Pulido came on and tested Austin Ejide a couple of times, but in the end, a draw was a fair result.
Both sides will look to build on the lessons learnt ahead of their summer campaign in Brazil's World Cup.
Download And Enjoy...
Related Files